The first mined tunnel in Singapore to use spray applied waterproofing membrane
The first mined tunnel in Singapore to use spray applied waterproofing membrane
Contractor
Samsung C&T Corporation
THE PROJECT
As part of the Thomson Line & Circle Line Interchange Project in Singapore, Contract T213 for the construction of Caldecott Station, an underground Mass Rapid Transit (MRT) station, and associated tunnels was awarded to Samsung C&T Corporation for a contract sum of S$285 million.
Caldecott Station consists of a twin tunnel and one three-arch tunnel with a total area of approximately 3,200 square metres. Completed in 2021, the station connects the Thomson Line with the Circle Line. The interchange station is situated underneath Toa Payoh Rise and benefits commuters working and residing in the Thomson Road and Toa Payoh Rise area.
Commuters now enjoy a direct route between the Woodland and Caldecott Station in 25 minutes, as compared to the previous 40 minutes of traveling along the North South Line with transfer to the Circle Line at Bishan. The interchange also provides easier access to the Singapore Association of the Visually Handicapped, Lighthouse School, Lions Home for The Elders, Mount Alvernia Hospital and MacRitchie Reservoir.
THE CHALLENGE
The Land Transport Authority (LTA) wanted to try a new waterproofing system as the PVC sheet membrane system used in past projects had not been effective, with problems of continued water ingress into operating tunnels. This is particularly evident in the area around complicated interfaces with other structures and where complicated joint details form weak zones, with almost 90% of them requiring leak repair.
The LTA was seeking to address this issue and started to look for a solution. Normet proposed the use of TamSeal 800 sprayable membrane. As TamSeal 800 had not been used before in Singapore, Normet was required to go through a series of site trials and tests to validate the product system and convince the LTA that TamSeal 800 was the right solution.

Caldecott Station, Singapore - Drawing 1
All the parties discussed the implementation of TamSeal 800. Drawing 1 illustrates the methods of using TamSeal 800 sprayable membrane in combination with Asiabuild's Troseal Floroshield Reactive membrane.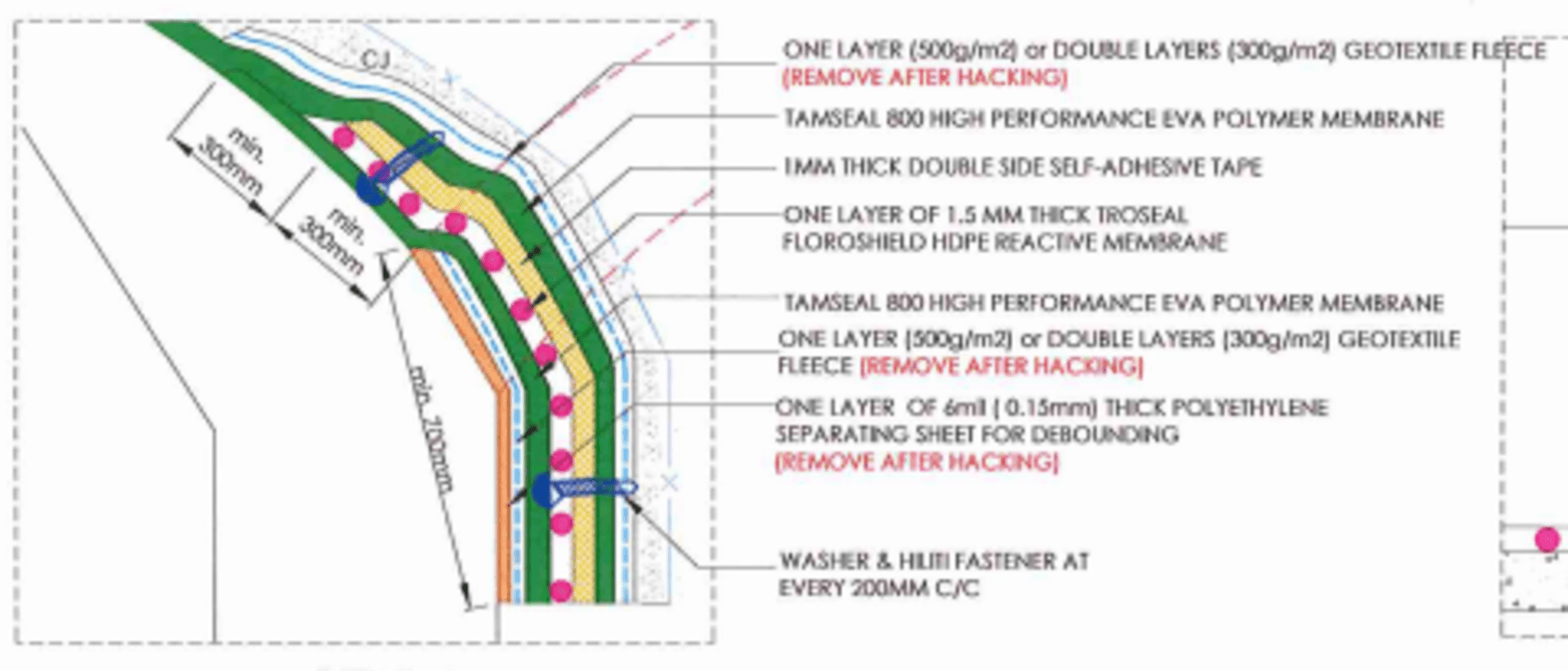 Caldecott Station, Singapore - Detail 2
Detail 2 shows application methods using double layers of geotextile fleece, TamSeal 800, double-side self-adhesive tape, Troseal Floroshield membrane, TamSeal 800, etc. These methods are also designed to create a 'sandwich' to minimise water seepage.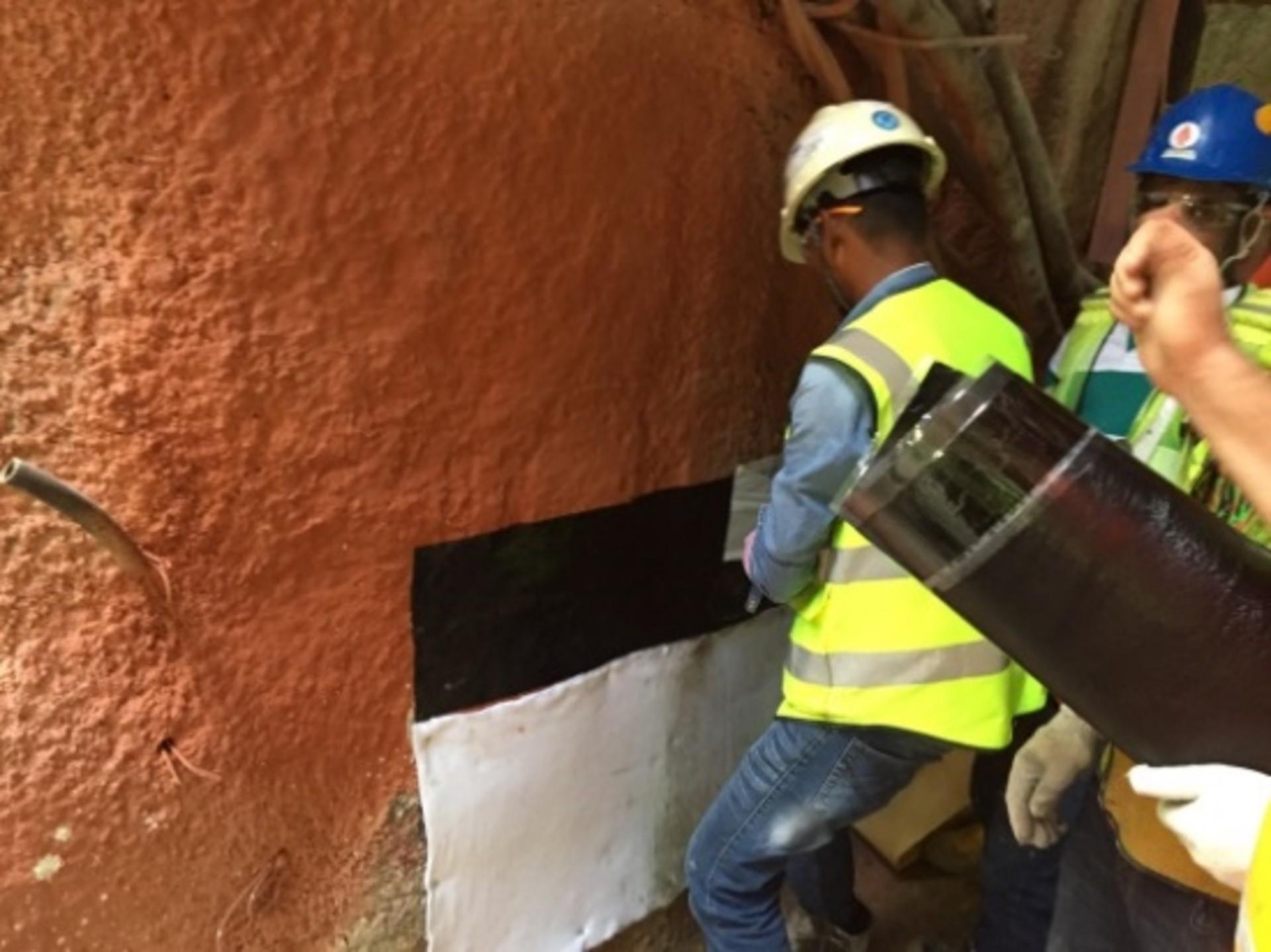 Installaion of Asiabuild's Troseal membrane after the Tamseal 800 has cured
Quick Facts
First use of TamSeal 800 in Singapore
A fully bonded sealing system by TamSeal 800
Rectification work easier to perform in the future
Groundwater build-up leakage prevented
THE SOLUTION
Normet succeeded in providing the Mass Rapid Transit (MRT) with an alternative installation system. The conventional method of using preformed PVC sheet membranes with a loose lay technique makes rectification difficult when groundwater leakage occurs as there is no bond to prevent water paths.
In contrast, with TamSeal 800 spray applied waterproofing, the membrane is fully bonded to the concrete, making focused rectification work far easier when localised leakage occurs. In addition, a "reservoir" of groundwater builds up behind a sheet membrane and is ready to leak into the tunnel at any point. TamSeal 800 prevents these reservoirs from forming thanks to a fully bonded system.
Project Outcome
The Caldecott Station project received positive attention as it is the first mined tunnel in Singapore to use spray applied waterproofing membrane. The project is also the first to successfully combine spray applied and preformed sheet membrane into a system approach.