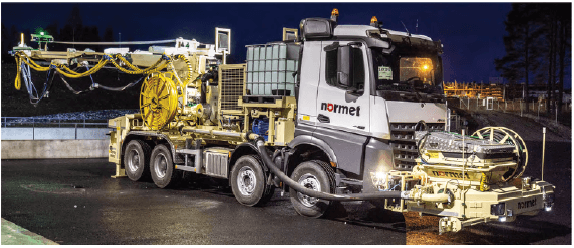 Spraymec NorRunner 160 DVC
Overview
Spraymec NorRunner 160 DVC is a truck-based, road-legal concrete sprayer, specifically designed for the needs of tunnelling and tailored for medium to large tunnel profiles with a maximum horizontal coverage of 23 meters and a vertical one of 16.5 meters.
Allowing for efficient spraying with both the efficient diesel engine and the electro-hydraulic power pack or, alternatively, completely local emission-free by plugging the machine into a mains supply, the NorRunner 160 DVC features cutting-edge spraying technology like an unmatched dosing system and an extremely low-pulsation NSP 30 concrete pump with independent conveying cylinder control, both working in tandem with an integrated closed-loop control system. The machine is equipped with an accurate spray manipulator with one of the largest working ranges in the market, superb rebound protection and excellent maneuverability. Furthermore, the simple kinematics of the manipulator make it incredibly easy to operate. Fitted with a high-capacity on-board compressor and an automatic conveying line and nozzle washing system to reduce blockages, the NorRunner 140 DVC offers superior concrete spraying results in the harshest of underground conditions.
The NorRunner 140 DVC can be equipped with both our innovative SmartSpray system for automation of the concrete spraying process and our SmartScan system for advanced concrete thickness measurement.
We provide everything you need to get the best results with sprayed concrete for mining and tunnelling applications, both underground and on the surface. Our offering includes equipment for both concrete spraying and transportation, construction chemicals as well as supporting technologies and services.
Key specification
---
Truck-based tunnelling sprayer
Max. vertical reach: 16.5 m
Concrete pump output: Up to 30 m3/h
Tramming height: 4 m
Features
Safety
Reversing camera for improved reversing visibility
Ergonomics and operator environment
Productivity and efficiency
Agile and accurate spray boom with coordinated boom joint control for simplified spraying operation, nozzle rotation, adjustable maximum movement speeds, durable rebound protection and proportionally controlled, pressure controlled hydraulic movements
Available with our innovative SmartSpray spraying automation system
Available with our cutting-edge Normet SmartScan concrete thickness measurement system
Unrivalled, low-pulsation NSP 30 spray pump (up to 30 m3/h) with a reversing function
Accelerator system with a hydraulically driven pump (12 bar) and a 1000 l accelerator tank (second 1000 l tank can be installed)
Accelerator dosing fully synchronized with concrete delivery
Remote Driving System (ReCoDrive) for safe and effortless machine relocation with a remote control
Hydraulically-driven rotary vane compressor with adjustable air flow rate (8 m3/min, 10 m3/min or 13.8 m3/min)
75 kW electro-hydraulic power pack for the spray boom, concrete pump, S-tube and dosing system
Advanced wireless remote control system with 4 joysticks for all relevant process controls and an additional cable for bridging the radio link and the power supply
High-pressure washer for both machine cleaning and pre-wetting of the spraying area with a 750 l stainless steel water tank
Hydraulically driven water hose reel
Automatic lubrication system for the concrete pump and the spraying boom
Automatic concrete line washing system with a protective hopper cover
Form oil system
Extendable hydraulic rear support legs
Anti-freeze tank (300 l)
Water booster pump
Hydraulic oil filling pump
Storage box for tools and spare parts (a set of tools included)
Optional spraying conditions monitoring system
Optional heating element kit for the accelerator container
Optional electrically operated mixer for the accelerator container
Optional bypass filter kit for the oil circuit
Gallery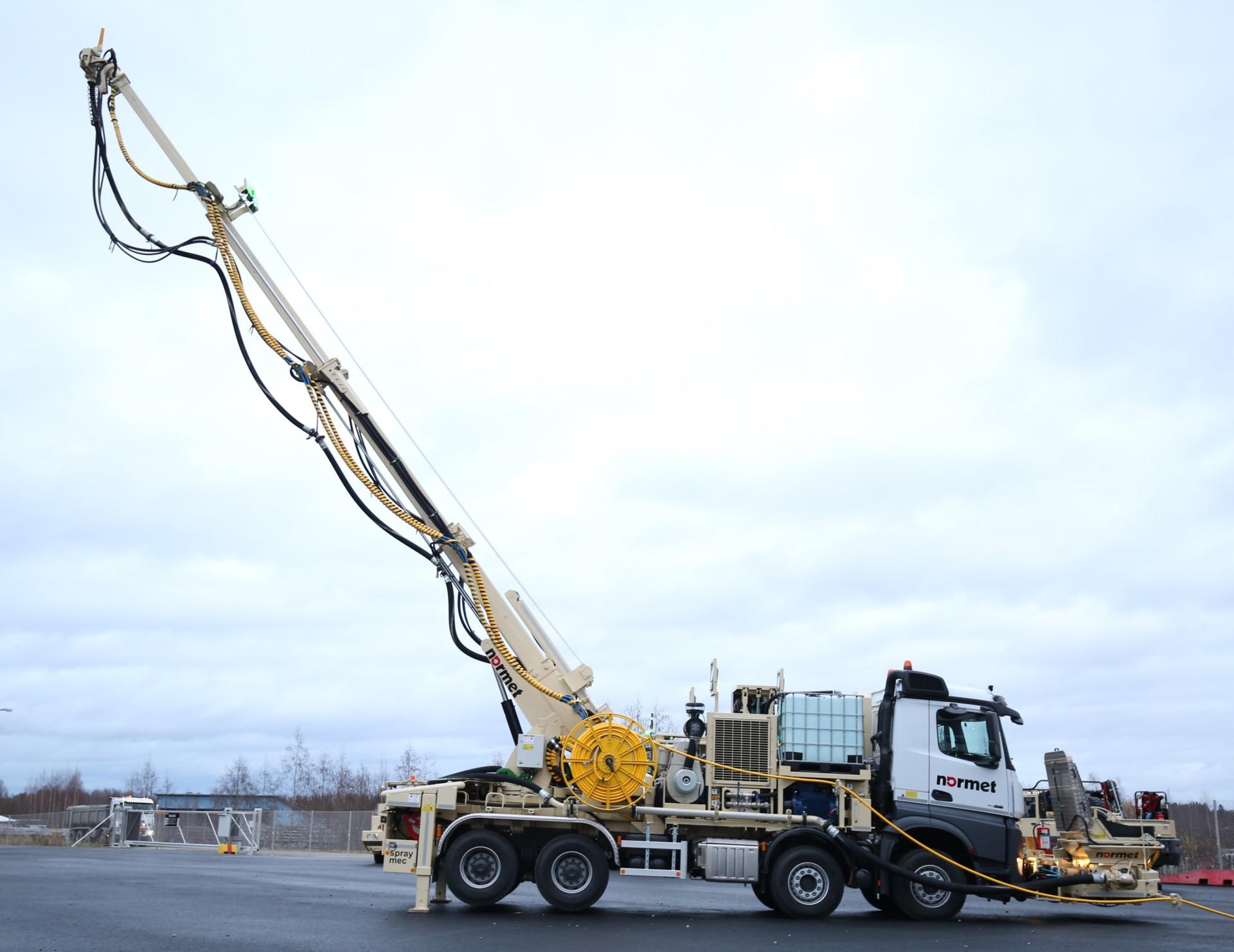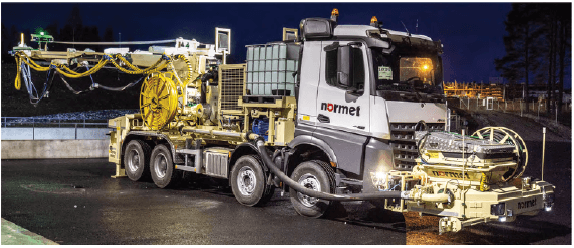 Documents
Spraymec NorRunner 160 DVC
---
Optimise your sprayed concrete process