May 4, 2022
Steps towards creating zero-carbon tunnels
Despite a daunting timeline set by the Paris Accord, zero-carbon tunnels are within reach if the right solutions are implemented.
The tunnelling industry is at a tipping point where sustainability and decarbonisation are at the top of executives' agendas. To achieve a 1.5°c climate-change target by 2050, the tunnelling industry will need to reduce direct CO2 emissions to net zero.
Currently too few countries and infrastructure projects are "walking the talk" and taking the initiative to reduce carbon. Perhaps Norway is one country leading the way, and, as with their domestic electric vehicle market, electric drive construction equipment is increasingly employed, with major cities to have carbon neutral construction by 2025. Outside Norway, a few countries and projects in Europe for example, are establishing at least aspirational targets to reduce carbon, but typically only with the sole focus on developing low carbon concrete mixes.
The tunnelling industry is a contributor to global CO2 emissions and has a role to play in carbon reduction. The industry is facing increasing pressure from policy makers, investors, and customers to decarbonise operations.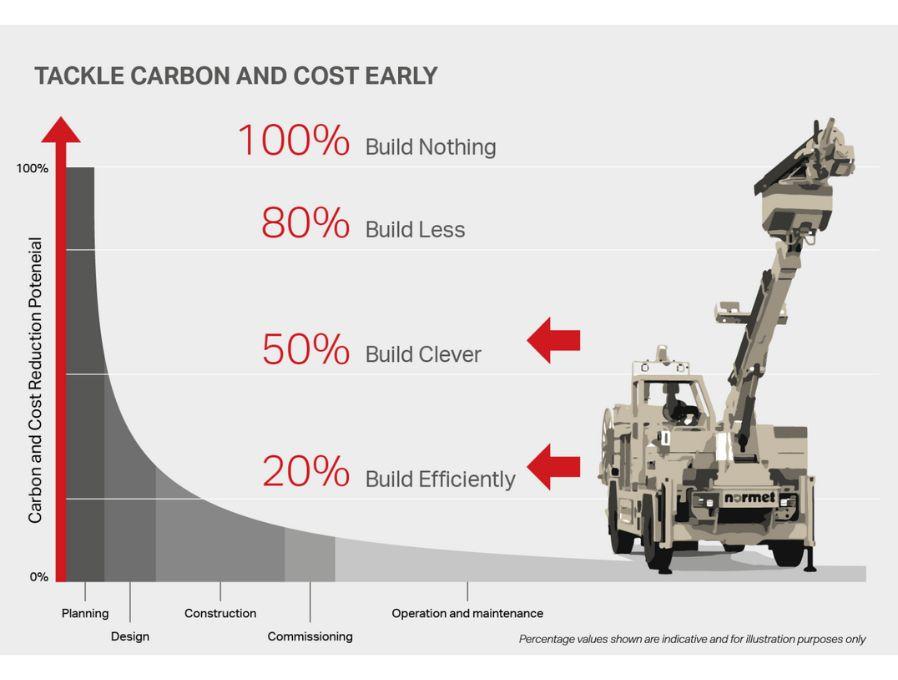 Sustainable Tunnelling - Tackle carbon and cost early
Once the decision is taken to build a new tunnel, clever design followed by efficient construction focused on carbon will ultimately lead to lower project costs.
Whilst some believe low carbon tunnelling equates to higher project costs, currently best practice in carbon management in the construction industry suggests otherwise, and via a holistic approach throughout a project's lifetime, with engineers focused on carbon saving, this intrinsically delivers an overall project cost saving too! This is certainly the ethos behind the standard PAS2080 to Carbon Management in Infrastructure and is well worth employing on projects for those keen on decarbonisation.
Given this growing ambition and need for decarbonisation, here are my five cents: three key aspects that would accelerate decarbonation efforts and make a considerable push forward to achieve the 1.5°C climate-change target ‒ Build clever, build efficiently, and build for a lifetime.
Build clever - It all starts with innovative and considerate design
The biggest decarbonisation gains in tunnels come from decisions at the planning and designs stages. Upfront choices for possible projects are crucial to the carbon story, including whether to build at all, or look to upgrade or extend the life of existing assets before pursuing a new build approach.
So, it is early in the design stage that the key differences are made, and in tunnels it is design where the largest proportion of savings in carbon can be made. Such design benefits can be more readily implemented on tunnel projects through client leadership, for example incentivising procurement approaches that attract main contractors to offer innovative carbon reducing processes and materials, that in turn stimulate the wider technical supply chain.
In open face tunnelling, sprayed concrete rock support is used globally, and in many countries in the world, given its high quality, has also been widely adopted for permanent tunnel linings, which save between 20-25% of the concrete used in conventional tunnel lining systems. I believe that modern sprayed concrete systems today, combining high levels of Portland Cement replacement, polymer fibres and innovative waterproofing technologies, offer possibilities to potentially achieve over 50% reduction in carbon in our tunnel linings. But again, these 'Build Clever' solutions must be captured and implemented at the early design stage to maximise the biggest carbon saving potential. These are real solutions to give real savings, and we can make these big steps today with the right team culture, the right design, and coupled to exciting new procurement models coercing positive things to happen.
As a side note, the challenge for the low carbon sprayed concrete is the slower strength gain in the first few hours after spraying. Early strength gain is vital for overhead safety and productivity in building thick enough layers. Interesting studies we have developed with geopolymers (mixes with no Portland cement) have shown we can obtain ultra-low carbon concrete with rapid early strength gain, although we continue to improve the needed long-term performance to make these mixes more viable.
The next step we can take towards carbon zero tunnels is to be super-efficient throughout the construction processes.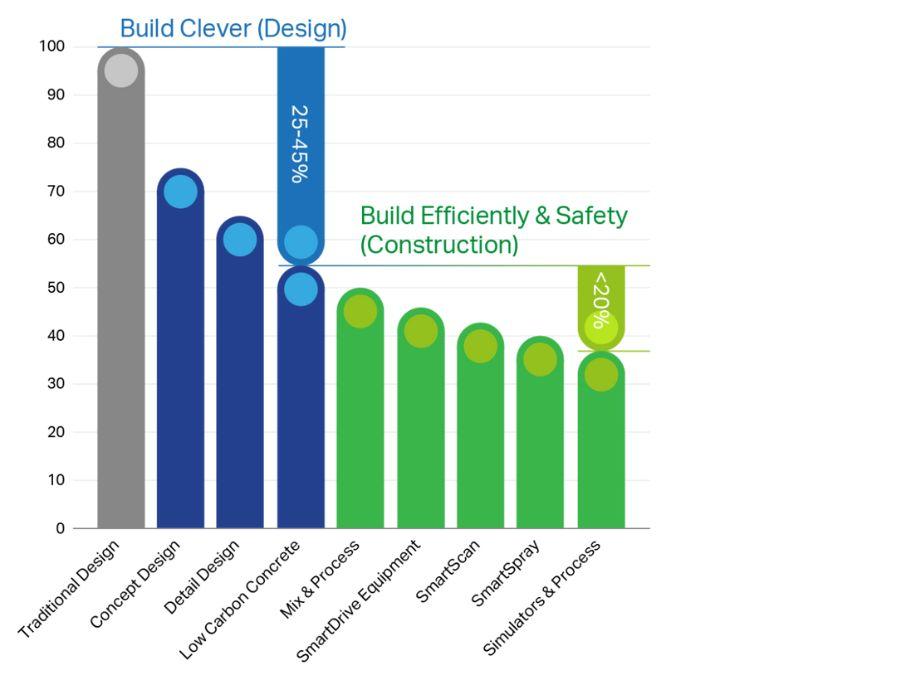 A holistic approach to tunnel design and construction is needed to decarbonise the industry. Each process step offers a crucial carbon saving component.
Early focus - strategic partnerships in design and collaboration with contractors and supply chain.
Low and ultra low carbon sprayed concrete lining materials. New accelerators and membranes are key.
BEV based range of SC tunnelling equipment for main tunnel diameters.
SC digitalisation to validate design. Develop realtime SmartScan and digital ecosystems through industry collaboration.
Simulator training, EFNARC accreditation, continual improvement, further develop computer aided spraying.
People are key to making low carbon SCL tunnelling work. It won't come from government legislation. Scheme operators must lead.
Build efficiently - Smart equipment, people and digitalisation
Multiple efforts will be required to address the principal sources of emissions and to decarbonise. Such actions include a move toward sustainable sourcing, selective use of fuels, electric drivetrains, as well as a switch to green electricity providers to power our tunnel construction projects.
An example of our sustainable offering is our SmartDrive battery electric vehicles. SmartDrive provides improved performance with zero local emissions. They also eliminate fuel and fuel transportation costs and have lower equipment maintenance costs. By way of example, Norwegian tunnel contractors are already operating to 2050 carbon net zero targets by using SmartDrive Spraymec 8100 SD spraying robots being charged up using hydropower grid electricity. We also starting to see this in remote mining projects where mine based renewable energy plants supply the battery charging power for the mining equipment fleet. This is net zero and 2050 ready.
Critical to carbon reduction is to start measuring and establishing our carbon usage in tunnelling projects today — We need to create a baseline on which to benchmark so we have a reference point to improve our game. To do this I anticipate a digital revolution in sprayed concrete tunnelling, using data access platforms that pull in data sources from our underground equipment, batch plants etc, but also intelligent and real-time 3D scanning systems at the excavation face supporting robot nozzle operators "getting it right first time" when they can spray either to required profile or thickness. These systems will also support engineers to assess material usage, geology, and quality for instance. In essence a real-time digital twin will be highly valuable to all stakeholders and will drive the daily review of carbon and cost reduction, whilst attaining controlled, safe processes.
Virtual reality training platforms for key operators are becoming established in our industry and Normet's VR Sprayed Concrete Simulator, endorsed by the international EFNARC C2 certification scheme, is the latest example allowing nozzle operators to hone their skills in the classroom environment. These simulators encourage safe, sustainable ways of spraying and highlight areas for improvements, contributing to these trainees developing the right attitudes and practices needed in the real underground space.
Build for a lifetime
We need to be less of a throwaway society, particularly even in our tunnelling life! Normet build equipment to last, and wherever we can we recycle and re-purpose components and materials to build new equipment and new construction materials.
Furthermore, when we don't have to build new tunnels, we can offer ways to provide new operational life to tired and worn out existing underground assets using remote, accurate structure assessment tools, coupled with an array of smart rehabilitating technologies and processes.
Finally, let's promote the use of low carbon sprayed concrete technologies to build more sustainable infrastructure to support a better life for our current and future societies. High societal value is already measurable with the re-invigorated interest in underground green energy storage schemes, such as with pumped hydro and prospective hydrogen storage, but also low project cost tunnel solutions to permanently connect our remote communities.
In a nutshell, multiple efforts on various fronts are needed to accelerate decarbonation efforts. It's not just about low carbon concrete. We've all got some work to do, so let's get to it and have fit, "low-carb" tunnels.
About the author
---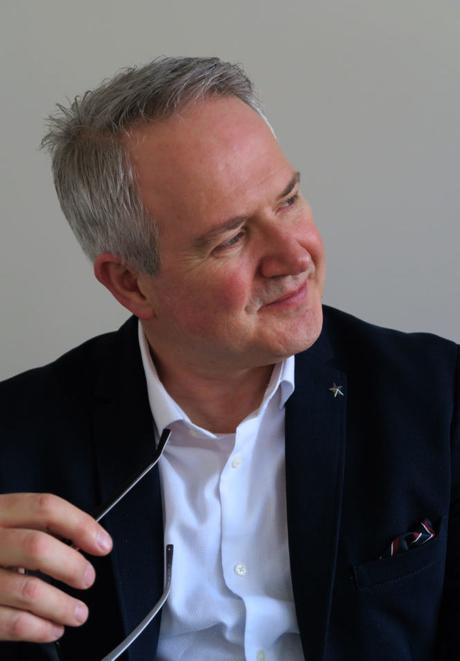 Ross Dimock
Vice President for Tunnelling at Normet
Bio
Ross is well known to both the UK and international sprayed concrete tunnelling industry having started his journey on the NATM sections of the Channel Tunnel. There followed two separate episodes in Mott MacDonald working on Crossrail and Hindhead designs, between which he worked for Balfour Beatty on the construction of Waterloo Station Jubilee Line, and MBT later BASF as a global technical head. After 11 years with Normet in various lead roles, he now is the Vice President for Tunnelling, and has the exciting challenge to develop sustainable, low carbon solutions for the industry, pulling on his 33 years of sprayed concrete tunnelling passion and motivating change!
Ross Dimock - LinkedIn Profile